What is the cost of a dumpster rental?
Call us for a competitive pricing based on your location.
6 yard box includes up to 1 ton of debris
10 yard box includes up to 2 tons of debris
15 yard box includes up to 2 tons of debris
20 yard box includes up to 3 tons of debris
30 yard box includes up to 4 tons of debris
How long is the dumpster rental period?
The standard rental period covers seven days. If your project requires special accommodations, contact us for a quote.
What materials are allowed in dumpsters?
GENERAL/CONSTRUCTION DEBRIS:  furniture, clothes, toys, paper and wood products, tile, drywall, plaster, insulation, ceiling tiles, and shingles.
LANDSCAPE ONLY DUMPSTER: branches, bushes, mulch, leaves, and grass clippings.
CLEAN CONCRETE: (No dirt, garbage) boxes available in 6 yard and 10 yard sizes only.
What materials are not allowed in dumpsters?
Asbestos, paints, varnishes, thinners, cleaners, chemicals (all chemicals), gas, used motor oil, drums, oxygen tanks, gas cans, tires (all types), batteries, propane tanks, lawn pesticides, washers, dryers, dishwashers, water heaters, freezers, air conditioners, dehumidifiers, boilers, animal carcasses, TV's, VCR's computers, monitors, stereos, printers, scanners, satellite boxes, fax machines, mattresses and box springs.
If any of these materials are found in the dumpster, an additional charge will be applied.
Is driveway protection available?
Yes. Please call to make arrangements. Additional charges may apply.
How is the weight determined?
Prices for rental are set up calculating the amount of weighed debris to be inserted. All containers that we pick up are charged by the ton (2,000 lbs.) at the various transfer stations we dump at. We pick up your dumpster and drive to the transfer station to pull up on a (state regulated) scale. The scalemaster enters our weight with all debris inside the container. After dumping the load, the truck is weighed again, this time empty. The difference between entering the scale and leaving the scale is subtracted and that ends up being the total weight of the content inside the dumpster. The transfer stations charge by the ton (or portion of) that is the cost of dumping your debris.
Our dumpsters are priced to include *base weights. Any additional weight incurs an overweight charge. We will send a copy of the dump ticket from the transfer station and an invoice stating how much weight was paid for originally and how much overweight the dumpster was.
*base rates have been determined using averages of previous containers throughout the years
What cities do you deliver dumpsters to?
Same day service (10-mile radius) highlighted in dark blue. Orders must be in by 9:00 am. Next day service for surrounding cities (15-mile radius) in light blue.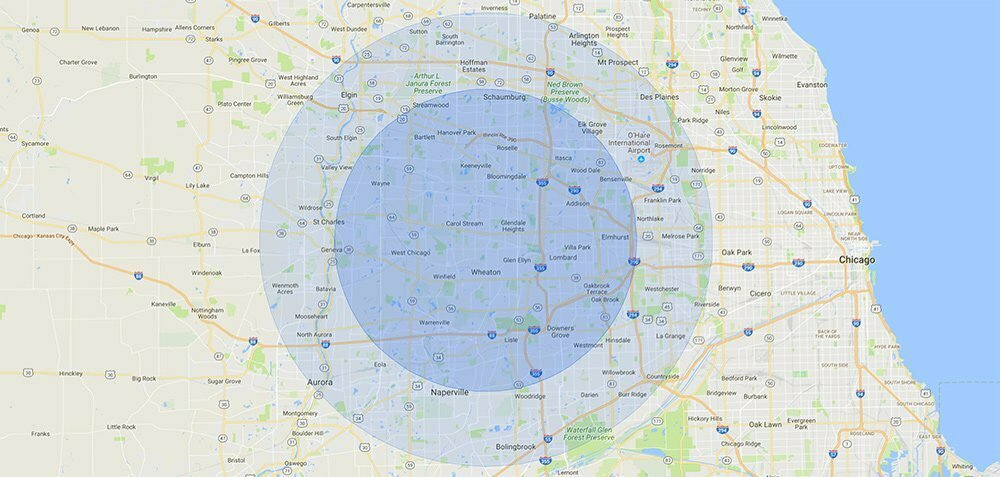 Our service area for dumpster delivery covers the cities below. We can deliver to other cities for an additional charge, please call our office.
Elk Grove Village
Glen Ellyn
Glendale Heights
Hanover Park
Hinsdale
Geneva
Itasca
Lisle
Lombard
Medinah
Naperville
North Aurora
Oakbrook
Palatine
Roselle
St. Charles
Streamwood
South Elgin
Schaumburg
Villa Park
Warrenville
Wayne
West Chicago*
Westmont
Wheaton
Willowbrook
Winfield
Wood Dale
Cities eligible for same day service are in bold. *We can only deliver to unincorporated addresses in these cities.
What zip codes do you deliver dumpsters to?
Dumpster Delivery Service Area by Zip Code
60504 ,60507, 60598, 60599, 60510, 60539, 60101, 60004, 60006, 60103, 60106,
60108, 60440, 60188, 60189, 60514, 60515, 60517, 60559, 60561, 60120, 60123,
60126, 60009, 60007, 60137, 60139, 60133, 60521, 60522, 60523, 60134, 60143
60532, 60148, 60157, 60540, 60563, 60564, 60565, 60542, 60521, 60522, 60523
60067, 60064, 60172, 60174, 60175, 60107, 60177, 60173, 60193, 60194, 60195
60181, 60555, 60184, 60185, 60190, 60527, 60559, 60191, 60399, 60187